Interested in a co-working space in Cabarete. A place to spend some time as a...
Cabarete owes its fame to the steady trade winds, the prevailing pattern of easterly surface...
Rest your legs or just get a break from the surfing in Cabarete. Go diving...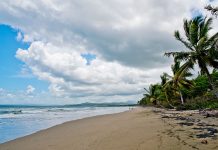 Cabarate, today a laid-back Caribbean beach village, mostly visited by surfers and kitesurfers, was originally founded in...
A beach of white coral sand slightly covered with coconut palms and a backdrop of...